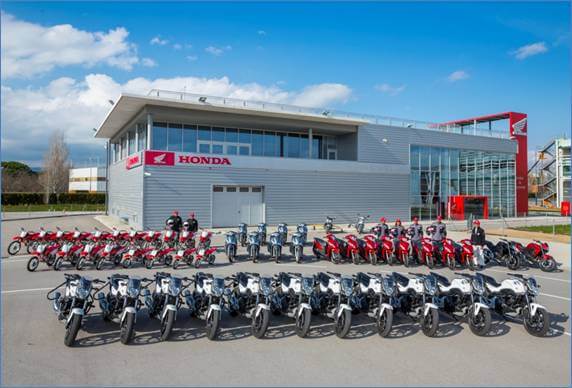 Ar  FIM Eiropas un Tūrisma komisijas locekļu atbalstu Barselonā, Spānijā, 2018.gada 14.aprīlī, plānots organizēt jau otro Tūrisma Gidu apmācības kursu. Uz apmācību iespējams pieteikties līdz 2018.gada 11.martam.
Detalizētāka informācija par apmācību kursu pieejama PDF failā
.
Ņemot vērā iepriekšējās apmācības kursu pozitīvos rezultātus, kad pēc Tūrisma gidu apmācības programmas beigšanas jaunie FIM Eiropas sertificētie Tūrisma gidi saņēma konkrētus darba piedāvājumus mototūrisma grupu vadīšanai, Iepriekšējās apmācības notika Honda Drošības Institūta motociklu poligonā, kas ir lieliska infrastruktūra, lai apmācibu dalībnieki apgūtu vai pilnveidotu savas braukšanas iemaņas un arī šoreiz ir pieņemts lēmums šīs apmācības organizēt Honda Drošības Institūtā. Apmācību dalībniekiem tiek piedāvāti gan atbilstoši motocikli (ceļa un bezceļa trasēm), gan arī aizsargu aprīkojums un ķiveres, kas ievērojami atvieglo ceļošanu uz Barcelonu. Šogad apmācības ietvaros arī plānots piesaistīt profesionālu sacensību mediķi, kas savā lekcijā izglītos dalībniekus pirmās palīdzības sniegšanas jautājumos, jo Tūrisma gida atbildības ietvaros ir rūpēties par visu ceļotāju drošību un nepieciešamības gadījumā snbiegt pirmo medicīnisko palīdzību. Pēc apmācību beigšanas Tūrisma gidi saņems FIM Eiropas sertifikātus, kas tiem ļaus organizēt mototūrisma braucienus, turklāt visi jaunie Tūrisma gidi tiks publicēti FIM Eiropas mājas lapā un kļūs starptautiski pozicionēti kā atzītie mototūrismu grupu vadītāji.
Visiem interesentiem, kas ieinteresēti mototūrismā ir iespējas pieteikties uz šo apmācību priekšatlasi un aizpildīt pielikumā esošo formu, nosūtot to uz: office@fim-europe.com
Deatlizētāka informācija pieejama pie LaMSF Tūrisma komisijas vadītāja Nila Freivalda, e-pasts: 
nils.freivalds@gmail.com
Lūk, FIM Europe oficiālais e-pasts, kur aprakstīti pieteikšanās un dalības nosacījumi:
---
We are pleased to announce you that, on proposal of the FIM Europe Touring Commission, we are launching the 2nd FIM Europe Moto-Tour Assistant Training Course, which will take place in Barcelona/ Spain on the 14th April 2018.
The purpose of this initiative is to organize a Training Session for a pre-selected group of Tour-Assistants (TAs), which will be allowed to attend a professional training course for Moto-Tour Assistants supplied by FIM Europe in cooperation with:
HONDA SAFETY INSTITUTE  
Poligon Industrial La Torre del Rector
08130 Santa Perpètua de Mogoda
Barcelona / Spain
http://www.honda-montesa.es/Honda-Safety-Institute/
PROGRAMME & COSTS OF THE COURSE
The aforesaid Course, will be composed of a theoretical part (about 2,5 hours) and of a longer practical part (full programme enclosed).
This time, towards the 1st edition of the Training Course, the theoretical part will include also first-aid notions.
FIM Europe will cover all costs of this Course, training bikes & riding gear (on and off road), as well as lunch catering during the training day for all participants.
Participants should have a proper footwear for the on-road riding courses as well as clothing such as jeans/slacks/long trousers in order to avoid minor injuries such us scratches or similar.
Of course all other costs of travel, accommodation & meals, as well as any other not explicitly hereby mentioned, will be at charge of each participant.
TRANSFERS OF THE PARTICIPANTS
FIM Europe will organize and pay itself the transfers of all participants from\to the Honda Safety Institute.
The transfer will leave, on Saturday 14th April (early morning) from:
Hotel NH Sants Barcelona
Les Corts,
08029 Barcelona
http://www.nh-hotels.com/hotel/nh-sants-barcelona?_ga=1.50797994.2050778029.1468329475
The exact time of the transfer will be communicated to the accepted candidates on a later stage.
At the end of the Course, it will be organized also the transfer back from the Honda Safety Institute to the same hotel.
(Of course the participants are not obliged to book their rooms at this hotel. It represents only the meeting point for the transfer).
DIPLOMA
On successful completion of the Moto-Tour Assistant Training Course, the participants will receive a diploma, certifying that they are entitled to provide Moto-Tour Assistant Services.
On the FIM Europe website will be also published the list of all participants having got the aforesaid certificate.
INSCRIPTION TO THE COURSE
In order to be entitled to attend the 2nd FIM Europe Moto-Tour Assistant Training Course, you are kindly requested to fill in the enclosed check-list and to mail it,  within 11th March 2018, to:
The check-lists will be evaluated by the FIM Europe Touring Commission and, immediately afterwards, we will answer to all candidates in order to inform if they have been accepted.
The training course will foresee a maximum of 15 participants.